3 Ways Teachers Can Work Smarter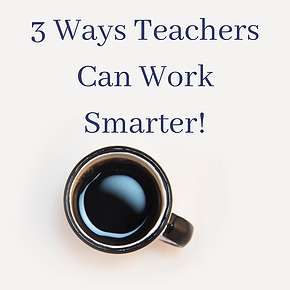 The reoccurring, and ever-important, issue of work-life balance comes to the fore as we reflect on the school year almost over. How can we build on our successes and adapt to improve our areas of development, both personally and professionally?
We know that there are more and more expectations of and accountability measures placed on teachers. It is crucial that we make processes, policies and initiatives user-friendly.
So, how teachers make work practices more effective and efficient?
Here are three suggestions:
Get Creative with Marking & Feedback
Assessment Guidelines for Teachers
Smarter Planning
Let's get stuck in!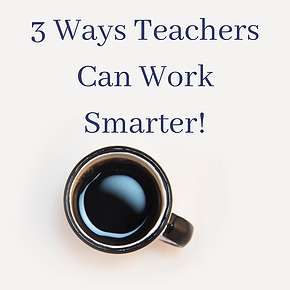 Get Creative with Marking & Feedback
A valuable question for teachers is why do we mark? Another important question is should teachers mark everything?
We mark to give clear feedback to students; to require students to correct and improve their work and to understand gaps in knowledge and inform teaching. Teachers should not be marking everything as you cannot have quality if there is quantity. Unfortunately, many teachers are under the illusion that they must mark every piece of work a student does. This is both inefficient and ineffective for all parties. Teachers do not have the time to mark every piece of work in-depth and often end up 'ticking and flicking' and using general statements to describe work. This offers students limited constructive feedback to enable them to refine their work.
You could try this:
Dylan Wiliam, leading educational researcher and lecturer, celebrated worldwide for his work on formative assessment, recommends what he calls 'four quarters marking'.
This means that teachers should mark in detail, 25% of what students do; they should skim another 25%; students should then self-assess about 25% with teachers monitoring the quality of that and finally, peer assessment should be the other 25%. It's a sort of balanced diet of different kinds of marking and assessment.
By adopting an approach like four quarters marking, we might go some way to address teacher workload, and at the same time, give students more ownership over their own learning.
Next up…
Assessment Guidelines for Teachers
If schools were to implement a clear marking and feedback policy that gave teachers transparency regarding expectations this would be a huge help. Teachers are often confused about what is expected of them in terms of marking and feedback – how often and what to mark.
You could try this:
Introducing a clear policy and guidelines is one way in which teachers and schools could be supported with their workload. This would allow them to focus more time on teaching and learning and implementing change effectively and efficiently. Some schools have implemented a "mark one piece of work for every six hours you teach" policy. This piece of work would be marked in detail offering positive and constructive feedback, with built-in lesson or homework time to allow students to engage with feedback and follow it up. By implementing a topic-based marking plan, teachers can prepare what activities will be marked by them in advance.
Example of topic-based marking plan:
Smarter Planning
Abraham Lincoln once said: "Give me six hours to chop down a tree and I will spend the first four sharpening the axe." This quote highlights the importance and value of proper planning before executing a task. However, as teachers know, the process of lesson planning has become increasingly administrative and demanding.
You could try this:
A hugely popular resource for lesson planning is KISS, which aims to keep it simple! It enables teachers to plan in a structured way. By using a structure like KISS, teachers can eliminate confusion about where to place activities within a lesson. For more tips on smarter planning, please click HERE.
There is enormous pressure on schools and teachers to perform, and excel in all areas. The more we learn, the more we feel we should be doing better. Remember the words of Greg McKeown in his book Essentialism – "You can do anything, but you can't do everything"!
Rahoo are an award-winning training provider for teachers. The tips featured are from their online EPV Summer Course for Primary Teachers 'Work Smarter, Be Happier'.
This course has had excellent feedback from teachers, like this response from Deirdre Bryne: "This course has made me think very differently about how I can teach both effectively and efficiently in the coming year. I have learned that it is not about how long you spend doing tasks but how well you spend your time".